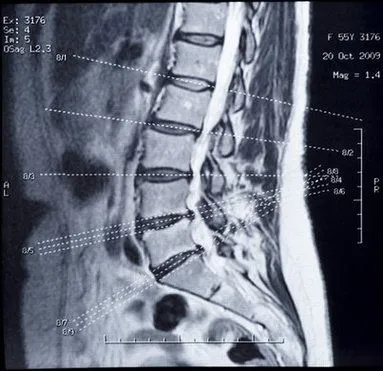 Chiropractic and the Cox Technique?
Cox Technique:
At the Holland Chiropractic & Acupuncture Clinic we practice the technique known as Cox technic (at times called flexion distraction). Cox technic is a non-surgical, non-hospital, gentle, well-referenced, hands on chiropractic spinal adjusting manipulation for decompressing spinal nerves and treating spine pain. It drops intradiscal pressure within the disc. Further, Cox technic realigns and restores ranges of motion inherent to the spine while reducuing back pain, especially in radiculopathy patients, better than active exercise therapy.
The Adjustment:
Some patients are heard to say "Oh, I wish somebody could just pull me apart!" This technique does just that and much more in a safe, controlled manner.
This technique is a gentle, non-force procedure, which aids the spine in healing properly and to ensure a pain free future. Cox Technique is the well-documented, researched proven effective, non-surgical technique for decompressing spinal nerves and treating low back pain.
According to a clinical study performed by the Orthopedic Technological Review in 2004, it was said that 86% of all cases experienced spinal pain relief with disc decompression protocols.
During a treatment, you will lie on your stomach while the doctor manipulates your spine to relieve nerve pressure. The doctor may use the instrument to move you lateral or into flexion. Many motions can be applied to the spine to allow the spine to return to a state of normal motion.
The Benefits of Cox Technic:
Cox Technic flexion-Distraction and decompression adjusting and manipulation creates a "push, Pull, Pumping " effect on the intervertebral disc space and allows these benefits:
Increases the intervertebral disc height (C) to remove tension on the annular fibers and the spinal nerve (B) by making more room and improving circulation.
Drops pressure within the nucleus pulposus (A) of the intervertebral disc;
Increase the area of the intervertebral foramen up to 28%;
Restores vertebral joints (D) to their physiological relationships of motion (realigns your spine)
Adjustments:
Spinal joints that are "locked up" fixated or not moving right can affect your health by "choking" or irritating nerby nerve tissue. Chiropractic adjustments add motion to these areas. This helps restore nervous system integrity and can improve the healing process.

Cox Disc-Traction Therapy is an Alternative to Surgery
You don't have to live in debilitating pain. Whether you have lower back pain, a pinched nerve, sciatica, or a variety of symptoms related to damaged or degenerative discs, as well as syndromes of the lumbar spine, the Cox Disc-Traction Therapy may be right for you.

This gentle, non-surgical therapy can provide lower back pain relief, sciatica pain relief, and is a state-of-the-art therapy for bulging or degenerative disc disease, and lumbar pain.

The gentle distractive forces of the Disc-Traction Therapy create a decompression of the spine with unloading due to distraction and proper positioning, to improve blood flow and nutrient exchange to the injured area. You'll experience several cycles of stretch and relaxation, which graduates to a peak over a period of several minutes.

Therapy sessions typically last less than 20 minutes, 2 times a week for 1 month, transitioning from passive to active treatments as you respond, with most patients feeling pain relief with as few as 3-6 treatments. Most patients are released from treatment after 8 weeks.

A complete program targeting the function of the stabilization muscles is a vital part of Disc-Traction Therapy. Exercise and adjunctive therapies such as oxygen therapy, heat, muscle stimulation, ultrasound, Class IV Laser, and cold therapy can assist in rehabilitation of these structures. Our goal is to not only help heal the disc, but to also enhance muscular control and support of the back and neck.

Regular home exercise and periodic visits to our office will help in maintaining your spinal health and reduce the probability of recurrence. Clinical results of this type of therapy have been effective in over 75% of the patients treated and most patients find long-term relief or effective management of their pain when they complete the entire program of treatments utilizing the Cox Disc-Traction Spinal Therapy.
FYI... The Cox Technic
Increases the disc space height 17%
Increases the nerve opening sizes in the spine through which spinal nerves pass from the spinal cord to the body by up to 28% in area
Intradiscal pressure reduction which reduces nerve irritation inside the disc and reduces nerve pressure on exiting nerves from the spine that cause arm and leg pain. This drop in pressure has been measured as high as 192 mm reduced pressure inside the intervertebral disc.
Restores normal range of motion to the joints of the spine
Establishes nerve conduction from the extremities, spinal joints and intervertebral discs to the spinal cord and brain that have a sedating and pain relieving capability.
A Cry in the Medical Literature for Spinal Manipulation
Researchers and authors call for spinal manipulation as conservative care for lower back pain relief and other spinal conditions's relief. Here is a sampling of published articles calling for spinal manipulation, directly or indirectly:
Spinal manipulation is recommended by the American Pain Society and the American College of Physicians for primary care of low back pain. (Chou)
Back schools (for short-term improvement), and short courses of manipulation/mobilization can also be considered. The use of physical therapies (heat/cold, traction, laser, ultrasound, short wave, interferential, massage, corsets) cannot be recommended. We do not recommend TENS. (Airaksinen)
5 to 10 sessions of spinal manipulative therapy administered over 2 to 4 weeks achieve equivalent or superior improvement in pain and function when compared with other commonly used interventions, such as physical modalities, medication, education, or exercise, for short, intermediate, and long-term follow-up. (Dagenais)
Spinal manipulation is safe and recommended for acute low back pain. (Bigos)
Canadian Spine Surgeons Want Spine Surgery Candidates, Not Back Pain Sufferers
Canadians wait years for spinal surgeons appointments which they don't need. MRIs show spinal abnormalities that make family doctors refer unnecessarily. Lots of money is spent on unnecessary tests and doctor visits. Canada tries to set up a better system to train family doctors to better know who needs surgery and who doesn't. (Priest)
Life Threatening Complications and Costs Increase with Increased Rate of Complex Fusion Procedures (Deyo)
Disability after Fusion Is High, Fusion Rates Increase (Juratli)
Chiropractic patient back pain care less expensive than medical doctor care. (NC study) (Phelan)
Chiropractic patient back pain care initiated with a DC cost 40% less than care started with a MD. (TN study) (Liliedahl)

Spinal manipulation has a place in spine pain relief. Spinal manipulation is non-surgical, non-invasive, effective, and less costly. Chiropractic is at the forefront of spinal manipulation delivery, with nearly 94% of spinal manipulation being delivered by chiropractors (though other healthcare providers are encroaching as its effectiveness is documented). Cox Technic physicians are poised to be successful in back pain relief with this flavor of spinal manipulation.

If you have an interest in the research or any questions on the delivery of this technique at our office, contact our office and we would be happy to forward you the documentation regarding the Cox Technic spinal manipulation.
CALL FOR A FREE CONSULTATION AND/OR EMAIL OUR OFFICE TODAY !