New in early 2015, the Holland Chiropractic and Acupuncture Clinic is proud to announce the addition of Non-Surgical Spinal Decompression (also called Decompression Therapy) to its complement of health and recovery modalities.
DTS Spinal Decompression Therapy is a leading non-surgical alternative for disc related syndromes of the lumbar and cervical spine. DTS Therapy uses simple, yet sophisticated equipment manufactured by the leading rehabilitation equipment manufacturer in the US, The Chattanooga Group. Chattanooga's Triton DTS Decompressive Traction System is the most popular decompression system with over 1,200 installations worldwide.
The Holland Chiropractic & Acupuncture Clinic is one of over 1,000 clinics nationwide to offer safe and effective DTS Therapy utilizing the Chattanooga DTS system. Clinical advances in traction therapy have given new hope to millions suffering from the debilitating pain of damaged or degenerative discs and pinched nerves the Decompression-Reduction-Stabilization therapy is an effective treatment for:
Herniated disc
Degenerative disc
Facet syndrome
Sciatica
Post-surgical patients
Spinal Stenosis
Do you have a herniated disc, multiple herniated discs, degenerative disc disease, facet syndrome, or any other type of spinal problem? Is your doctor suggesting surgery, Pain Management, or Physical Therapy? Have you tried Chiropractic and just could not get enough relief? Come to the Holland Chiropractic & Acupuncture Clinic and try out the Decompression Traction System (Triton DTS). A NEW treatment option that may help your condition!
Spinal Traction is highly recommended by Neurological Research. The most recent trial sought to correlate clinical success with MRI evidence of disc repair in the annulus, nucleus, facet joint and foramina as a result of treatment and found that reduction of disc herniation ranged between 10% and 90% depending on the number of sessions performed, while annulus patching and healing was evident in all cases. The most recent clinical study of 778 patients has showed that Disc Decompression Therapy was more than 70% successful in the treatment of herniated discs, degenerative disc disease, facet syndrome, and sciatica. In this same study, 92% of patients had a reduction in their pain of at least one point on the 0 to 5 scale (Neurological Research; Volume 20, Number 3, April 1998).
The treatment consists of twice weekly, 20-minute sessions, over a 2-week period. By that point in time we should have a good idea whether or not this form of treatment will be of benefit to you or not and a decision can be made on how we might proceed. Relief is usually experienced between 4 and 6 treatments. A follow up study on the outcomes of decompression therapy found that, 71% of patients showed more than a 50% reduction in pain immediately after treatment, and 86% showed a 50% or better pain reduction at four years. After four years, 52% of respondents reported a pain level of zero. (Anesthesiology News, March 2003)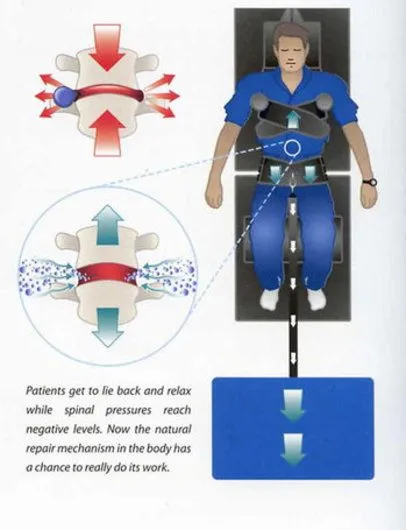 Call our office today for a free 15 minute consultation
303-422-7767
Research Findings
"Eighty-six percent of ruptured intervertebral disc (RID) patients achieved 'good' (50-89% improvement) to 'excellent' (90-100% improvement) results with decompression. Sciatica and back pain were relieved." "Of the facet arthrosis patients, 75% obtained 'good' to 'excellent' results with decompression."
C. Norman Shealy, MD, PhD, and Vera Borgmeyer, RN, MA.
Decompression, Reduction, and Stabilization of the Lumbar Spine: A Cost-Effective Treatment for Lumbo-Sacral Pain. American Journal of Pain Management Vol. 7 No. 2 April 1997
"Serial MRI of 20 patients treated with the decompression table shows in our study up to 90% reduction of sub-ligamentous nucleus herniation in 10 of 14. Some rehydration occurs detected by T2 and proton density signal increase. Torn annulus repair is seen in all."
Eyerman, Edward MD. Simple pelvic traction gives inconsistent relief to herniated lumbar disc sufferers. Journal of Neuroimaging. Paper presented to the American Society of Neuroimaging, Orlando, Florida 2-26-98.
"Results showed that 86% of the 219 patients who completed the therapy reported immediate resolution of symptoms, while 84% remained pain-free 90 days post-treatment. Physical examination findings showed improvement in 92% of the 219 patients, and remained intact in 89% of these patients 90 days after treatment."
Gionis, Thomas MD; Groteke, Eric DC. Surgical Alternatives: Spinal Decompression. Orthopedic Technology Review. 2003; 6 (5).
"All but two of the patients in the study improved at least 30% or more in the first three weeks.""Utilizing the outcome measures, this form of decompression reduces symptoms and improves activities of daily living."
Bruce Gundersen, DC, FACO; Michael Henrie, MS II, Josh Christensen, DC. A Clinical Trial on Non-Surgical Spinal Decompression Using Vertebral Axial Distraction Delivered by a Computerized Traction Device. The Academy of Chiropractic Orthopedists, Quarterly Journal of ACO, June 2004