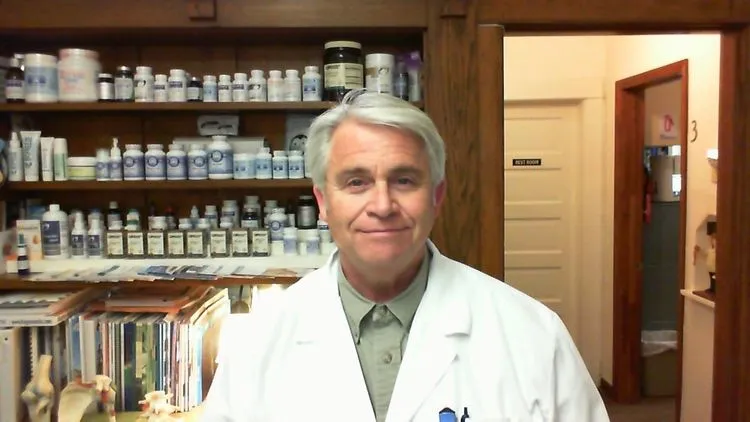 Freeman J Holland, DC, DACAN, CAc, FASA

I would like to take this time to introduce myself and our office to you. My name is Dr. Freeman J Holland and I have been a doctor of chiropractic working within the Wheat Ridge, Colorado, community since 1980. Caring for the people throughout the Denver Metro area and beyond has been our joy.
In our office, we treat patients suffering a wide range of ailments from the traditional concerns treated with chiropractic care such as; headaches, neck pain, lower back pain, work and auto injuries as well as the less traditional stress induced conditions such as, adrenal fatigue, thyroid concerns, female and male hormone concerns, chronic fatigue and irritable bowl syndrome, TMJ (temporomandibular joint ( Jaw ) dysfunction) and more recently we have extend the care we provide our patient to promote both longer-term Wellness and Functional Health. These latest additions to our arsenal of care began in 2011 after studying the methods of Dr. Daniel Kalish and the "Kalish Method" of Functional Medicine and "Mapping the Mind" brain wellness therapies. In addition, I have also been working in the applied brain health arena and studying under Marty Hinz, MD and the NeuroResearch Clinics, Inc., in neurotransmitter balancing through "Monamine Transport Optimization (MTO)". Recently, my spare time is spent as the Director of Applied Brain Health Clinics in Denver and Chicago. In all these arenas, we strive for excellence in our office having passion for what we do, and make every effort possible to get you back to health and enjoying a state of wellness as quickly as possible.
Over these many years our office has helped thousands of your Denver Metro neighbors by incorporating the benefits of chiropractic care with soft tissue work, musculoskeletal based acupuncture, rehabilitation, clinical nutrition based on blood chemistry testing and analysis and more recently incorporating physiological regulating medicine into our healthcare arsenal.
It is always important to know something about the doctor you are trusting with you healthcare needs so let me introduce myself in more detail. As already noted, I have served the health care needs of Colorado for the past 38 years. I am a graduate of Iowa State University with a Bachelors of Science degree in Psychology and a Chemistry minor and a magna cum laude graduate of the Palmer College of Chiropractic where I received my Doctor of Chiropractic degree and a member of the Pi Tau Delta Chiropractic Honorary Society. In 1992, after three years of post-graduate study, I was granted Diplomate status in neurology through the American Chiropractic Academy of Neurology. I have also been further trained and certified in Electrodiagnostic Medicine (needle EMG, NCV, SSEP) having received training through the National University of Health Sciences in Chicago, Illinois. I was also granted Diplomate status in pain management through the American Academy of Pain Management. I have studied Homeopathic Medicine extensively through the British Institute of Homeopathy in London, England. I have also studied acupuncture both through the Acupuncture Society of America and the Post-Graduate Department of New York College of Chiropractic where I received a Fellowship within the Acupuncture Society of America as well as studied acupuncture through the AnchorPoint Organization here in Colorado. I am licensed and certified by the State of Colorado to perform acupuncture as an adjunct to my primary chiropractic practice through the Colorado State Department of Regulatory Agencies and the Colorado Board of Chiropractic Examiners. Currently I am working on training programs in Chiropractic Family Practice, Clinical Nutrition as well as being involved in various ongoing Functional Medicine and Physiological Regulating Medicine programs.
Our office is honored to have the opportunity to care for you. You will find my staff well trained, efficient, and willing to do all we can to get you back on your feet and keep you there.
Dr. Holland
A more detailed biography is available at...